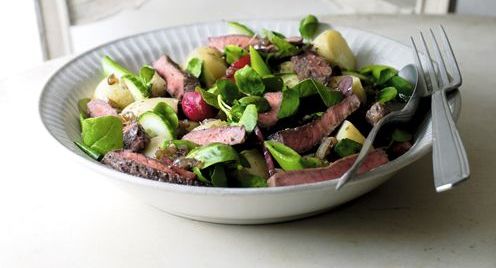 Ingredients
500 g (1lb 2oz) baby new potatoes, halved
50 g can anchovies marinated in oil, roughly chopped and oil reserved
1 small onion, finely chopped
1 small garlic clove, crushed
2 tbsp. balsamic vinegar
1 tbsp. sunflower or vegetable oil
2 sirloin steaks, each roughly 150g (5oz),with excess fat removed
¼ cucumber, deseeded and sliced
75 g (3oz) radishes, halved
150 g (5oz) sugarsnap peas
200 g (7oz) watercress and salad leaves
Directions
Bring a large pan of water to the boil. Add the potatoes and cook for 10-15min until tender.
Meanwhile, heat the oil from the anchovies in a large frying pan and cook the onion gently until soft. Add the garlic and cook for 1min. Stir in the anchovies and balsamic vinegar and empty into a large bowl.
In the same pan, heat the sunflower or vegetable oil. Season steaks and fry for 5min, turning once. Leave to rest on a board for 10min, then slice into strips.
Drain the potatoes and put into a salad bowl with the cucumber, radishes, sugarsnaps, watercress and salad. Toss with the beef and serve immediately.
Per Serving:
Calories: 288
Total carbs: 25 g
Sugars: 6 g
Total fat: 10 g
Saturated fat: 3 g
Posted in: Food Blog Posted by: admin On: May 28, 2021