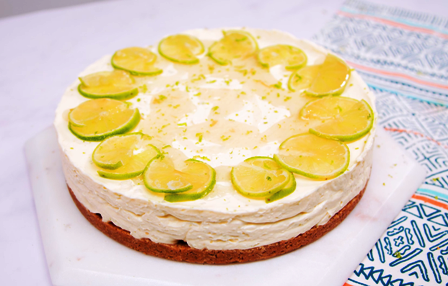 Ingredients
For the base
100 g 
unsalted butter, melted, plus extra to grease
250 g 
Hobnob biscuits
1/2 tsp. 
sea salt flakes
For the filling
500 g 
full-fat cream cheese, we used Philadelphia
175 g 
icing sugar, sifted
300 ml 
double cream
75 ml 
tequila
Finely grated zest 2 limes, juice of 1 
For the drizzle
75 g 
lime marmalade
1 tbsp. 
tequila
To decorate, optional
Finely sliced lime
Finely grated lime zest
Sea salt flakes
Directions
Lightly grease base and sides of a 20.5cm (8in) round springform tin (see GH Tip). Unclip tin to remove the base, then lay a 30.5cm (12in) square of baking parchment over the base. Carefully clip parchment-covered base back into the tin, making sure the parchment is tight. Line sides of tin with baking parchment.
Make the base. Whizz biscuits and salt in a food processor until finely crushed – alternatively, bash in a food bag with a rolling pin. Add melted butter and pulse/mix until mixture clumps together. Press firmly into base of prepared tin using the back of a spoon to level. Chill until needed.
Make the filling. Using a hand-held electric whisk, beat cream cheese and icing sugar until smooth, then beat in the double cream, tequila, lime zest and juice until mixture is thick and holds its shape. Scrape into tin and level. Chill for at least 6hr or ideally overnight.
To serve, make the drizzle. Heat marmalade in a small pan over low heat with the tequila and 11/2tbsp water, whisking until smooth. Cool.
Remove cheesecake from tin and transfer to a serving plate or cake stand. Peel off parchment paper from sides. Pour over the drizzle (thin with a little water first if needed). Decorate with lime slices, zest and a sprinkle of sea salt, if you like. Serve in slices.
Per serving:
Calories: 588
Protein: 5g
Fat: 42g
Sat fat: 25g
Carbs: 43g
Sugars: 33g
Fibre: 2g
Posted in: Food Blog Posted by: admin On: May 28, 2021