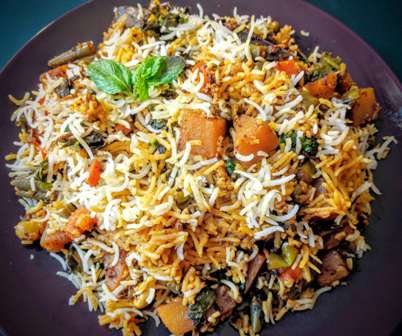 Ingredients
1 tbsp. 
sunflower oil
Knob of butter, optional
1 
large onion, sliced
2 
garlic cloves, finely chopped
2 tsp. 
freshly grated root ginger
1 
cinnamon stick
1 
bay leaf
3 tbsp. 
bhuna curry paste (or any curry paste you have to hand)
250 g 
(9oz) basmati and wild rice, rinsed in a sieve
Zest and juice 1 lemon
750 ml 
(1 ¼ pint) hot vegetable stock
100 g 
(3 ½oz) fine green beans
1/2 cauliflower, broken into florets
100 g 
(3 ½oz) frozen peas, defrosted
Small bunch coriander, chopped
50 g 
(2oz) blanched almonds, toasted and chopped
Directions
Heat oil and butter in a large, heavy based deep frying pan (with a lid), add the onion, garlic, ginger, cinnamon and bay leaf, then cover partially with the lid and cook gently for 10min. Uncover, add curry paste and cook, stirring, for 2-3min. Add rice and lemon zest only, stir to coat in the spice paste.
Pour over hot stock and stir once. Cover with a lid and simmer over a very low heat for 10min. Add green beans and cauliflower, cover and cook for a further 5min – all the stock should have been absorbed and the rice should be tender. Remove the lid, stir through peas and cook for a further min. Remove from heat, cover and set aside for 1min.
Stir through coriander and lemon juice. Season to taste. Scatter with toasted almonds to serve.
Per Serving:
Calories: 463
Fibre: 8 g
Total carbs: 64 g
Sugars: 10 g
Total fat: 15 g
Saturated fat: 2 g
Protein: 13 g
Posted in: Food Blog Posted by: admin On: May 28, 2021