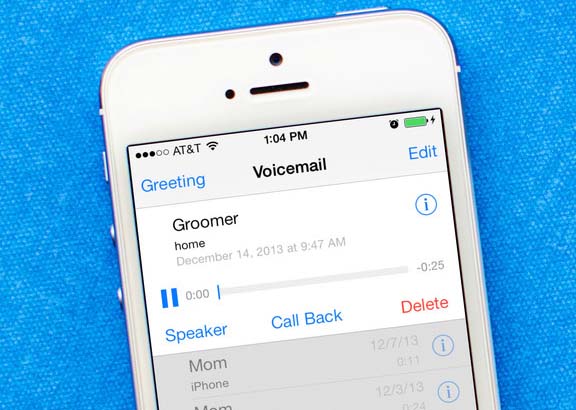 Clear voicemail on iPhone
Essentially, iPhones are always in danger of being damaged, lost, or stolen. What about your important iOS data? To help you recover lost or accidentally deleted photos, messages, and other data on your iPhone, we've collected 5 of the best iPhone data recovery software and carefully evaluated them to provide you with a valuable reference.
We receive voicemails on our iPhones every day. Sometimes, we don't know that these voicemails can pile up and end up draining our iPhone storage. However, clearing voicemails from your iPhone is easy, so whether you just want to simplify your iPhone a little, lose a long weird message on your phone, or recover some extra storage capacity, you'll find it only takes a moment or two to do it.
What's more, you may want to permanently clear voicemails on your iPhone to prevent personal information from being leaked. In this guide, we will give you two methods to delete iPhone voicemails.
1. Open your Phone app and tap "Voicemail" in the bottom-right corner. Here, you can delete voicemails individually by swiping left on them and tapping "Delete."
2. If you want to delete all the voicemails at once, tap the word "Edit" in the top-right corner.
3. Tap on the circles beside all the voicemail in your inbox that you want to delete, then hit "Delete."
4. Tap "Deleted Messages" at the bottom of the screen, and then hit "Clear All" at the top right.
All the voicemail files are now gone.
If you want to clear all your voicemail files, but don't want to lose your content, you can export your voicemail files and save them elsewhere. To save a message, tap it, then tap the share button (a small box with an arrow) and email or text the message to yourself as an audio file.
Setting Up Voicemail
The iPhone's voicemail is fairly simple to set up and use. Open it by going to Phone > Voicemail.
To set up your voicemail
If it's the first time you've opened your voicemail, you'll be prompted to enter a voicemail password and, if desired, record a greeting.
You can change your password. Go to Settings > Phone > Change Voicemail Password.
Enter a new greeting by tapping the Greeting button on the voicemail page. Tap Custom to record a new greeting.
To add an alert sound that plays when you receive a new voicemail, go to Settings > Sounds > New Voicemail. Select a sound from the list.
Choose your voicemail greeting
Inside the greetings page, tap 'Default' if you want to use your service provider's default voicemail greeting. Otherwise, if you want to record a custom greeting then select 'Custom'. Both options are found near the top of the page. If you have selected 'Custom', you will see the option to record your voicemail message.
---
---
Posted in: Technology Blog Posted by: admin On: March 23, 2022