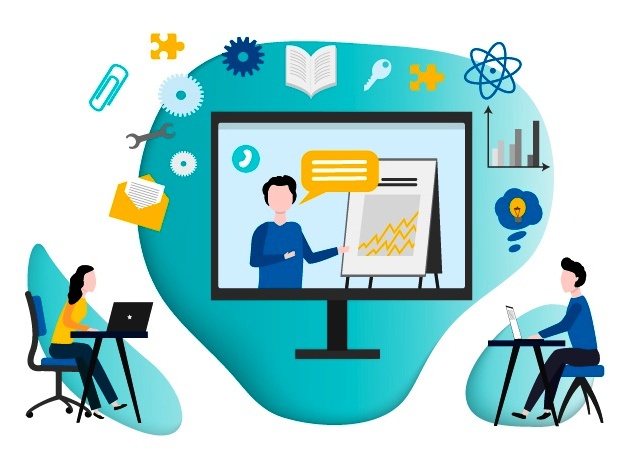 On one side, COVID-19 led to the current economic crisis. On the other side, it has accelerated an already expanding digital era. As the world is soaking in the immediate and unprecedented challenges the COVID-19 pandemic outbreak has created in the education field, we witness a hastened rise in virtual learning. Education industry's tech disruption is already underway, and many big and small players are expecting to continue riding the current wave of ed-tech disruption.
For instance, the online learning company Udacity saw a significant surge in demand for its virtual courses. According to Udacity President Sebastian Thrun, the company's enrolment more than doubled, and its engagement with clients increased massively.
So let's peek into the education industry's tech disruption fuelled with the COVID-19 pandemic.
Digitization in education is fuelling the ed-tech ecosystem
The process of imparting and consuming education has undergone a drastic change since the onset of the pandemic. The age-old concept of physical classroom-based learning is gradually becoming a thing of the past as educational institutions remain closed owing to safety concerns. With the teachers and students moving towards virtual classrooms, online learning is gaining massive traction these days. The digitization in education led to –
Content-rich syllabus
Quick doubt solving
Adaptive learning
Student-friendly user interface
Digitalization paved the way to a vast and diverse learning material through ed-tech platforms. These ed-tech platforms have left no stone unturned in offering best-in-class products and services to their users, be it doubt clearance by chatbots, coaching for competitive exams, or industry-focused learning.
The value of education is noble since day one in human history, and the considerate efforts to improve the quality of education have been appreciated throughout. With the internet becoming a part of student's everyday life, mobile apps can prove to be ideal for knowledge lovers to fulfill their thrust and dreams.
Leveraging Adaptive Learning
Artificial Intelligence (AI) is one of the most progressive technologies in the world, and its essence can be felt in almost every industry, including education. Adaptive learning is a computer-based online education system that leverages the power of AI to provide customized educational content to students based on their individual learning capabilities. It has an amazing ability to provide personalized learning considering the students' strengths, weaknesses, learning styles, skills, and proficiency before moving forward with the learning material and resources.
Research revealed that allowing students to work at their own grasping pace is an effective learning strategy as it gives them the liberty to progress through the topics once they have a firm grip on the current topics.
The conventional approach of one-size-fits-all is gradually losing its luster as human intelligence, environment, and living conditions vary to a significant extent from student to student. This is where technology makes its presence felt by inducing fine adjustments tailor-made to suit the caliber of each student. The AI-powered adaptive solutions paved the way to a system that is capable of learning from experience without manual intervention.
Furthermore, the adaptive learning systems advances student feedback and tracking with robust feedback loops being leveraged in blended learning environments, helping students track their own learnings, develop self-evaluation skills, and actively engage in personal learning progress.
With more and more educational institutions inching towards orchestrated interactions, conventional methodologies are getting replaced by tailored learning systems.
What the future of learning looks like?
Such is the power of technology in learning that it provides students the luxury to learn from wherever, with whoever, and whenever they want to. It opens several doors of opportunities ahead as students can work on the projects in collaboration with students from all across the globe, taking the educational and professional exposure to a whole new level.

It is imperative for our education systems to evolve their curriculum beyond basic numeracy and literacy to support the new way of learning in tandem with digital technologies. Technologies such as Artificial Intelligence (AI) and Machine Learning (ML) are significantly contributing towards a transformation that holds the potential to reconstruct a waning industrial society.

Immersive technologies such as AR/VR-based learning and training environments too are at the forefront of making significant improvements in customized learning by bringing that fun element and making the learning more enjoyable.

Going forward, the world might see a rise in blended learning, having a combination of asynchronous online elements and synchronous elements enabling students to seamlessly interact with each other, with their teachers, and learn parallelly.

The future of education will be tech and innovation-driven, and the sooner the educational institutions adapt to such a tech-driven learning environment, the better is their chance to survive and grow in the competitive landscape. No doubt, digitization in education has bolstered the online learning market, and as the needle is shifting rapidly, the ed-tech ecosystem is only going to thrive in the near future.

An increase in the number of internet users coupled with the outbreak of COVID-19 led to a steep rise in the demand for e-learning app development. Technology has been at the center of educational reform and has gained unprecedented momentum during this pandemic. And as a result, there is a sense of urgency to transform physical classrooms into the virtual world.

Posted in: Technology Blog Posted by: admin On: May 20, 2021