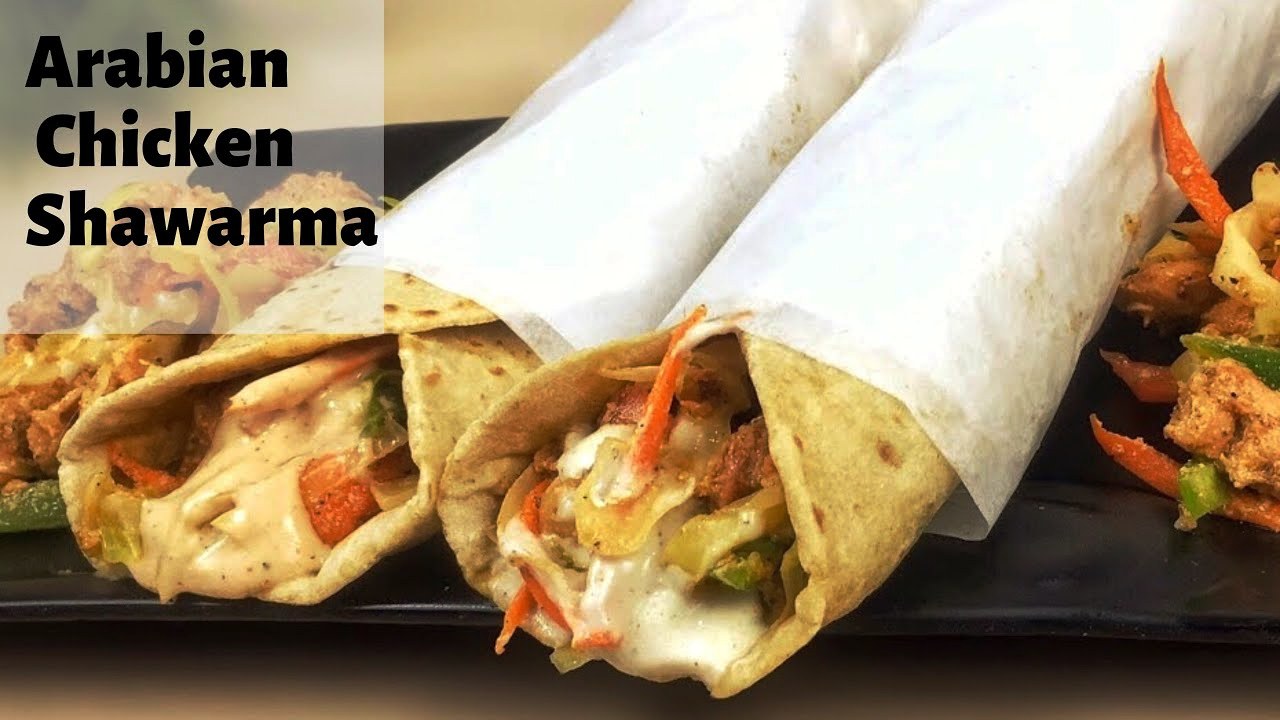 It's a popular gourmet sandwich that can probably be never made at home perfectly, but wait, there's a very easy way out. I did mine using a panini grill at home. Marinated Chicken chunks are mounted on a large rotating skewer and then roasted slowly to perfection against a gas burning grill. Due to unavailability of such industrial roasters at homes, this has typically remained a restaurant dish. And i have tried my best to keep it traditional to the core but as you all know, it's practically impossible. But still this one will be, if not hundred percent, at least near to three fourth of it. I am sure you all will love it. The basic concept in this recipe is to have a nice marination that mimics a good Chicken Shawarma flavor and then grill it in such a way that keeps it juicy.
Ingredients
 5-6 servings
800 gm Chicken Breast
3 tbsp Hung Curd
1 tbsp Salt
1 tbsp Paprika powder
2 tbsp Olive Oil
1 tbsp Ginger mince
2 tbsp Garlic mince
2 tbsp Thyme
2 pinches Nutmeg powder
2 tbsp Tomato sauce
FOR ASSEMBLING –
10-12 Pita Breads
1/2 cup Garlic Sauce
3-4 Tomatoes grilled
2 cups Pickled Cucumbers
1/4 cup Mayonnaise (optional)
2-3 cups thinly cut Lettuce
2-3 cups French Fries
FOR THE GARLIC DIPPING SAUCE-
1 Garlic bulb
1/4 cup Lemon juice
1 cup Olive Oil
1/4 tsp Salt
FOR THE PICKLED CUCUMBERS –
5-6 thinly cut Cucumbers
1/2 cup White Vinegar
Steps
Rinse the skinless Chicken breasts with cold water. Cut horizontally into thinner cuts of about 1/2 inch. Each breast could possibly be split into 2 slices depending upon the thickness.
Marinate it with all the ingredients mentioned. Cover and refrigerate overnight.
Now grill this marinated chicken using a Panini grill for 15 minutes on a medium heat. Or on a stovetop Griller whichever is possible. Also simultaneously grill the Tomatoes too.
Once cooked, shred the Chicken thinly. Now it's all ready to be wrapped into a Shawarma.
For the Garlic Dipping Sauce, just blend all until you get a thick Mayonnaise type of consistency. For the pickled Cucumbers, just cut the Cucumber juliennes and immerse in Vinegar overnight. Other veggies like Carrots, Turnips and Radish can also be used. The recipe for Shawarma Lebanese Pickle as well as the Garlic Dipping Sauce is already on my profile. You can have a look at it too.
Spread the Chicken shreds all along the diameter of a Pita Bread. Spread some Garlic sauce. Followed by pickled Cucumbers, grilled chopped Tomatoes, Lettuce and some French Fries. Mayonnaise can also be used if desired. Enjoy!
Posted in: Food Blog Posted by: admin On: April 2, 2021